1940 – Coleman Coal and Feed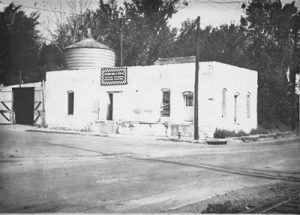 In 1940 Jim and Golden Coleman saw an opportunity to serve Bonner Springs, Kansas and the surrounding area by opening a coal and feed store. The business opened as Coleman Coal and Feed selling feed grains to farmers and coal to the community for heating. Jim Coleman had always worked in farming and continued custom baling of hay and straw on the side. Jim became a Minneapolis-Moline dealer because he respected the brand and recognized how many of the features were ahead of their time. He also loved the Case baler and became a dealer for Case equipment to obtain a new one. This is part of the companies tradition of carrying only products that we believe in and can stand behind completely.
1950 – Coleman Implement Co.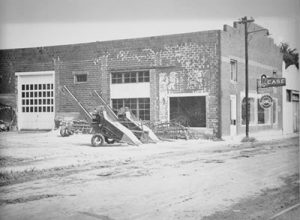 By the 1950's the equipment side of the business had grown so strong that Jim sold off the coal and feed business and moved to a new facility to operate as Coleman Implement Co. to focus on agricultural machinery.
As the equipment changed through the years, so did the dealership. In 1957 as Case was growing its line of Loader Backhoes, Coleman Implement expanded into this new market and new customer base. The company also took on other lines to support growing needs in the area, selling New Holland hay tools, Gehl forage harvesters, GMC trucks and even Frigidaire appliances. The company was founded on the belief that you grow the business by supporting your customer and backing up what you sell, and this philosophy also grew the business into becoming an ITCO parts dealer to provide all makes parts and accessories, along with quality OEM parts and service.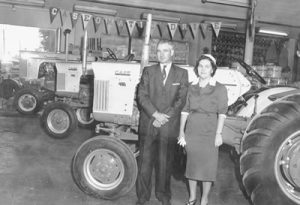 1968 – Johnson County Kansas and a Changing Market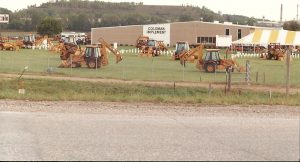 In 1968 due to a highway expansion project the business was forced to move to a new location. The company built a new state-of-the-art facility and moved to what is now the current headquarters location along K-7 in Bonner Springs. This new facility provided a large, and well equipped shop to support newer, larger equipment used by farm and commercial customers. The parts warehouse and showroom was spacious enough to keep all of the most common parts in stock for immediate pickup at the parts counter.
In the early 1970's the second generation of Colemans joined the business. Brothers Bruce and Del Coleman worked alongside their dad exploring new markets in construction equipment. They developed one of the first dealer rental fleets in the area, providing equipment for a multitude of different jobs when it was needed, and on a budget. The farm roots wouldn't ever go away, though, as they continued to explore and promote products in the compact tractor and suburban farm market. Through hard work and following the customer support philosophy, Coleman Implement won almost every award Case offered between 1960 and 1980, including highest retail volume, highest backhoe sales, highest tractor sales and many more.
1986 – Re-focusing Coleman Equipment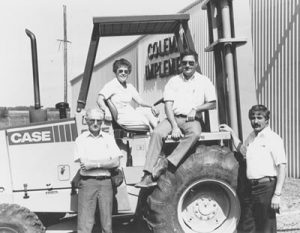 By 1986 Coleman Implement was the largest Case skid steer dealer in North America. This change in product mix, as well as, the change in the local market to a more suburban area, lead to a re-focus on compact construction equipment and to rename the business Coleman Equipment, Inc. in 1990. However, to remain connected to the suburban farm market Coleman Equipment took on the Kubota contract in 1992 due to its leadership in compact tractors.
Coleman Equipment in the 21st Century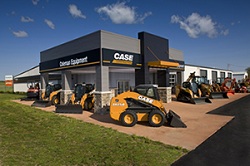 Change is the only constant, and the new century brought plenty. The 3rd generation of Colemans joined the business in the mid-2000's. Bruce's son John and Del's sons Jason and Chris entered from varied professional backgrounds and brought a new perspective on dealership operations. By harnessing technology Coleman Equipment expanded its philosophy of customer support to the entire country by developing one of the most prominent e-commerce equipment parts web sites in the United States. Connecting the sales force and every department through the latest in information systems, also prepared the business for its next big expansion.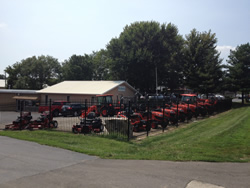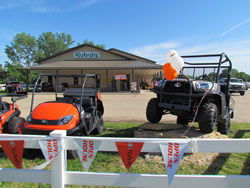 With dealership and manufacturer consolidation changing the structure of local sales territories, and new products and markets on the horizon, specifically Kubota's expanding construction equipment offering, Coleman Equipment saw an opportunity to strengthen its market presence in the Kansas City area and to provide better and more convenient service to its customers through a physical expansion. Through long collegial relationships with Scott O'Dell of O'Dell Tractor in Independence, and Scott Kolbeck of Scott's Tractor in Smithville, the Colemans saw a good fit between the 3 dealerships, as well as the common Kubota brand, and negotiated an acquisition in late 2013. The new 3 location Coleman Equipment was born. This gave the dealership a strong presence to sell construction and agricultural equipment into new territories, serving new customers, as well as a strong expansion into the local commercial turf and landscape market.
Through years of change and expansion, the Coleman Equipment values have stayed constant
Hard Work – Commitment – Extra Effort – All Work Has Value
Fairness – Honest Dealings – Equal Opportunity – Empathy
Service – To Our Customer – To Our Community – To Our Families
Pride – Our Work – Our History – Our Successes – Our Future
We appreciate your business, and know that we wouldn't have gotten anywhere without you, our loyal customer.